Make room on the bandwagon, y'all.  Snuggle up to the person beside you because fall is here and it might break the internet.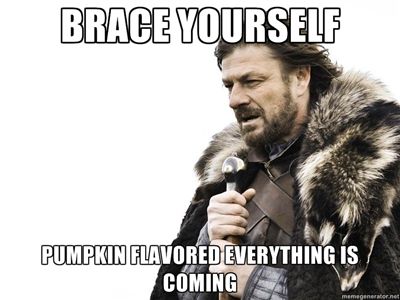 But here's the thing:  It is 60* OUTSIDE, and I do not care how predictable or overdone you find it, I am hopping on this bandwagon 
SO HARD
.
In the interest of full disclosure, here is what you can expect from me in the coming months.
I will post a picture of my inaugural Pumpkin Spice latte.  Please do not send me links regarding the chemicals in my pumpkin spice latte.  They are delicious, fall-flavored chemicals, and I have made my peace with them.  In fact, when I go into Starbucks, I am going to say, "I would like a tall pumpkin spice latte, extra whip cream, extra chemicals, please."
I will, at some point, post a picture of boots. (They have an Aztec pattern on them, #sorrynotsorry.)
I will post at least one status about the weather.  It will reference one of the following:
-Drinking tea outside under a blanket after the kids go to bed
-Twinkle lights on my porch
-Open windows
-The ability to breathe
I will mention my love of blazers and over-sized sweaters, which I will be wearing every day between now and next March when the South gets all South-y again.
I will tell my hair stylist to "lean red."
If you are not on the fall bandwagon, we can still be friends because I am open minded like that.  But if you will, allow me to describe for you what fall feels like down here below the Mason-Dixon Line.
Let's start with summer in the South.  Summer in the South, unlike the beginning of every John Grisham novel would lead you to believe, is not slow or charming or sitting in front of oscillating fans while sipping beaded glasses of sweet tea.
Summer in the South is leaving a cooler in the back of your car because the heat will spoil your diary products on the way home from the grocery store.
Summer in the South is eliminating red, pink, green, orange, blue and "athletic gray" from your wardrobe because they show your back sweat.
Summer in the South is back sweat at 8:00 am.
Summer in the South is 95% humidity.  Let me help you make sense of that number.  Imagine how it feels to wear wet jeans and socks.  Now imagine that the wet jeans and socks are your skin, and that you are trapped in the wet jeans and socks and cannot take them off.  That is what 95% humidity feels like.  It is like standing in a sauna, where the air is so saturated with water that it beads and rolls down your arms when it makes contact with your skin.  You may have inferred that public nudity is frowned upon down here in the prim and proper, manner-loving South, so we have to endure the inescapeable outdoor sauna in every direction forever while wearing bras and underwear and pants.  It is intolerable cruelty.
Summer in the South is "we don't go outside between the hours of 12 and 4 pm."
Summer in the South is "start your car 10 minutes before you leave so that the baby doesn't get heat stroke when you put her in the car seat."
Summer in the South starts in April and lasts until the end of September.  That's 50% of the year.
Summer in the South is not quaint; it is oppressive.
Imagine this:  You have endured a string of unending outdoor-sauna days through June, July, and hell August, when one morning you open your door and you can breathe.
Deeply.
The mugginess has given way to a crispness that wakes up your brain.  It feels as if the little pockets of alveoli at the bottom of your lungs were in hibernation- airless, suffocated, stale – and with that first deep breath of clear, fall air, they are filled again.  It is invigorating.
Fall after a southern summer feels like a breeze after years of stagnant air.  It feels like an invitation to go outside again.  Like a whiff of peppermint.
That's why we love it.
That's why I love it.
I also happen to enjoy pumpkin bread, pumpkin pie, and pumpkin lattes.  I like Halloween parties and Thanksgiving dinners and football, amen.  I like scarves and boots and sweaters, the floppier the better.  But I don't think I like them in their own right (except for pie), I like them because they accompany the glory of fall.
It's like my endorphines are so happy-clappy and cracked out on the 60* weather that everything that happens in this season is automatically my favorite.  Science.  I love fall because of science.
And so, friends, let's go revel outside with our kids and our pets and our invigorated lungs.
Pumpkin spice cheers,
Kate
What's your favorite thing about fall?  Go!