We drove to the beach yesterday and here is what I want to tell you about it.
You know what's more fun than merging onto the beltline in the rain on a Monday morning?
Everything.  Everything is more fun than that.
But there was this wonderful, glorious moment:  Just as the caffeine hit my veins, the traffic cleared, and the rain let up – I saw a sign for the beach.  It all converged into this one hopeful moment, and then AS IF ON CUE Pink's "Raise Your Glass" came on the radio and I went from this…
to this:
.
I did not become an adorable Korean man.  It's a metaphor.
In related news, season 4 of The Walking Dead comes to Netflix on September 28.  I will most certainly resume my live-texting (because I don't want to annoy you with Twitter) of my Walking Dead thoughts to my friend Cindy, like a less public and less profane (mostly) Muggle Hustle.  My phone will auto-correct CARL to all caps because I'm always mad at him for being an idiot, and DARYL to all caps because I'm always in love with him for being precious.
Back to the beach.
This place is the best.  It's 100% lovely and kid friendly, and to be both of those things at once is no small feat.
There is a little tiny room with windows on three sides, flooded with light,  and puffy love-seat – the perfect morning nook.  Its a coffee nook, silence nook, book nook, or prayer nook.   It's an all-of-the-above nook.
The art on the walls is by a little boy named Henry.  I walked in and saw my son's name written shakily in watercolor, framed and matted and I thought, "This is the place for us.  Thank you, thank you."
Guys.  THERE IS A TRAIN TABLE.  It's like a Barnes & Noble kids section up in here.  Glory.
There is no kitchy beach decor.  Only white walls, natural light, giant floor pillows, starfish perched on the windowsills, big, bulbed lights strung over the porch, and a yard full of palms.  I want to stay forever.
I took the kids to the ocean yesterday evening, even though the sky was threatening rain, because the beach is home base.  Vacation doesn't feel real until you see it.  We needed to touch base.
My kids ran headlong into the waves, fully clothed, and they squealed and screeched and laughed and splashed and rolled around.  Unbridled joy.  Sam stood knee-deep in surf, balled up his little fists and shouted, "Come on, waves! " as he punched the air with his twiggy little arms.  A three-year-old version of "Come at me, bro."
They woke up at 6:30 am because their circadian rhythms suck, but I made coffee and didn't yell, so, victory.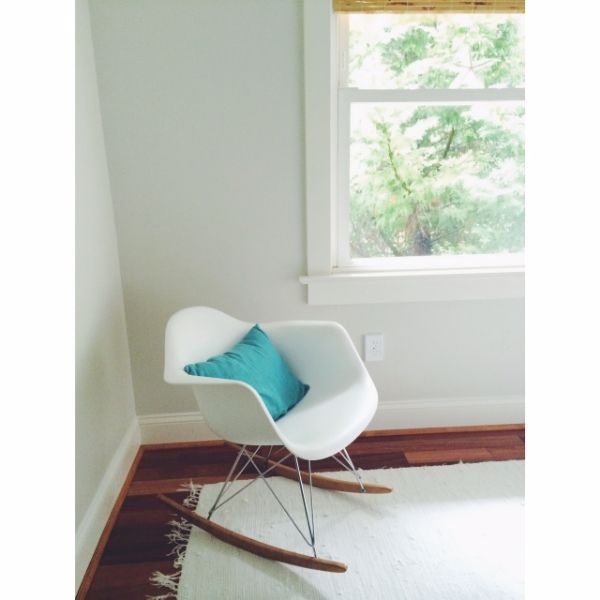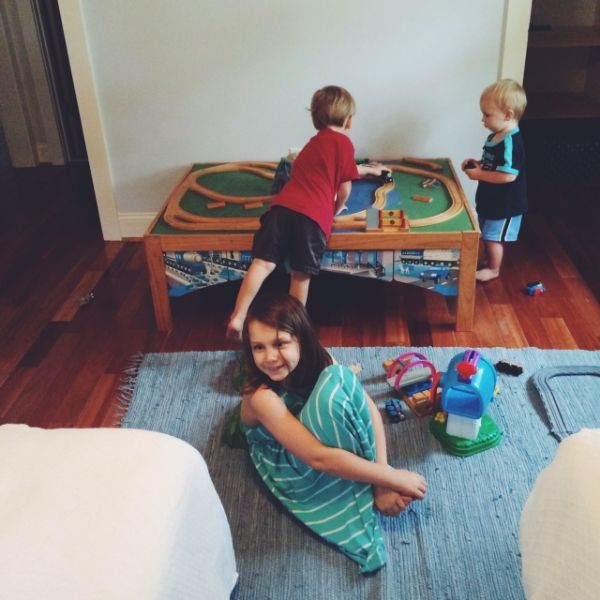 Signing off to breathe it all in.
Kate